Below are a list of events that are planned for 2018 both in Holy Family Fraternity and for our region, St. Margaret of Cortona.  Check this page often as it will be updated from time to time.
A "Meditation" on Francis' Encounter at La Verna and his Reception of the Blessed Stigmata
The National Gallery of Art in Washington D.C.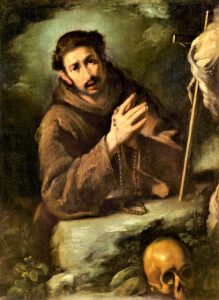 The National Gallery of Art in Washington DC will open a free St Francis exhibit on Sunday, February 25th  through July 8th.  The exhibit is a "Meditation" on Francis' encounter at La Verna and his reception of the blessed stigmata. Click on the blue link above for more information.
Dates: July 13-15, 2018




Secular Franciscan Conference


St. Bonaventure University
Becoming Prayer, Becoming Presence: A Workshop for Secular Franciscans
Facilitator:
 Br. Richard Hendricks, O.F.M., Cap., guardian of the Ards Friary and Retreat Centre in Donegal in the North West of Ireland. Br. Richard, an Irish Capuchin Franciscan, for the past 20 years has taught the practice of meditation in the Christian contemplative tradition and has evolved a number of programs teaching meditation and mindfulness to young people through the Sanctuary Spirituality Centre in Dublin.

St. Francis is often described as one who not so much prayed as became prayer! Following this path is to walk the way of transformation through prayer as taught by Francis, Clare and so many of the Franciscan saints. This workshop will look at renewing our sense of the Divine Presence in our lives and practical methods for establishing contemplative space as Franciscans today.
Transitus of St. Francis of Assisi


October 3rd, Wednesday  7:00 pm to 9:00 pm




All Saints Catholic Church, Manassas VA
Everyone is welcome to celebrate the life of St. Francis and his passing to eternal life in heaven.  Following refreshments are served in the Narthex.  Come enjoy the fellowship.
Hosted by Holy Family Fraternity